Big changes are afoot at ESPN radio, as
industry reports
say
Sports Nation
and its curious pairing of John Seibel and Orestes Destrade has finally come to an end, making way for Doug Gottlieb to take over the drive time slot from 4 -7 PM.
The program shift completes the most forgettable span of ESPN programming since
Beg, Borrow and Deal.
ESPN radio's senior VP Mo Davenport explained the move:
"The overall strategy is to focus on strong personality-driven sports content between 6 a.m. and 7 p.m."
Meaning: John Seibel, you've had three hours a day for the last four years to actually grow your audience. Nobody's failed with this much exposure since Alan Colmes. So take your
Air Force experience
and fly the hell out of this timeslot.
ESPN radio wasn't done tinkering there. Colin Cowherd will have another full hour to urge listeners to
blow up The Big Lead's servers
(although one person can do as much damage posting a single comment). Cowherd will now piss off Big Ten football fans from 10 AM to 2 PM daily.
But wait, there's more. Mike Tirico's lifeless brand of non-entertainment is shifting an hour and will air from 2 to 4 PM- causing Scott Van Pelt to lose his one-hour show all together. Brian Kenny will be hosting from 8 to 10 PM. Sweet, that means more boxing and baseball, two sports that couldn't be losing more steam in the public's consciousness.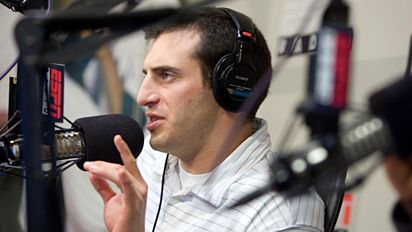 While Doug Gottlieb is yet another ESPN commentator that operates in the world of forced conviction, his basketball expertise is second to none. He can relate to the present day athletes based on his history of
credit card fraud.
He can also relate to many of today's best lawmakers
as an army deserter.
Either way, he's very inciteful and doesn't avoid controversy the way Mike Tirico has.
Speaking of Tirico, when will ESPN radio acknowledge that nobody sits around the radio these days to hear uninspired platitudes and endless colleague adulation? At one point we wondered if his pairing with Michele Tafoya was a plot by ESPN execs to entrap the NBA's lead play-by-play man into another
scenario with sexual harrassment potential.
And I have to question how ESPN continues to bury one of its best talents - Ryen Russillo. The guy is funny, quick-witted and has
no problem hitting on other radio personality's daughters
.