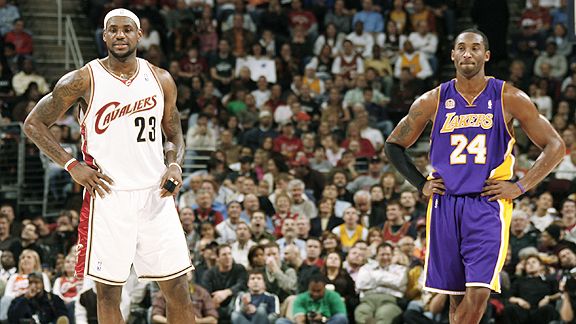 Today the Pau Gasol-led Los Angeles Lakers (40-9) come to The Q to challenge the Cavs (39-9) undefeated home record. In the last meeting the Lakers were able to dominate the Cavs inside the paint with the combination of Andrew Bynum and Pau Gasol. LAL shooting guard Bryant (3 time world champion, 0 time convicted rapist) milked a finger injury all game after touching the rock that is LeBron James early in the 1st quarter. Luckily for #24 he was then able to successfully defer to the higher percentage shooters
.

Today however the tables have been turned as Bynum has been lost for 8-12 weeks and Big Z is back for the C-L-E. The Lakers also just traded VladRad for two awful players in Caucasian Adam Morrison and former Cleveland 1st rounder (and of course BUST) Shannon Brown. Unfortunately LA will likely be without both scrubs as they probably have not turned their heads and coughed while the Laker's team doctor touches them intimately. The Cavs will continue to be without Delonte West (AKA: DHood; Lil Red) and possibly Sasha Pavlovic.

The big question today is if both teams will be making an effort to execute solid basketball on both ends of the floor or if Cavs small forward LeBron James (the best player in basketball for a few years now) will get caught up in a pissing contest with overrated Laker shooting guard Bryant . Many people incorrectly feel that Bryant's ability to make high degree of difficulty field goal attempts make him one of the top two players in thee Association. LeBron tends to try and show people he can make the same ridiculous shots instead of just continuing to beat his defenders to the hoop for And Ones. If LeBron stays out of foul trouble look for him to defend Kobe a lot in the second half and give him the most contested jumpers he can find (even moreso than the awful shots Kobe took against Paul Pierce on Thursday).

This game is going to come down to a combination of which superstar plays better, team rebounding and which team shoots the 3-ball with more accuracy. I'll take the C-L-E by a count of 104-92.Go Cavs, Hopefully the 13 readers of this site notice this is a new opinion as I (Rossitron) am popping my cherry with this, my 1st post.