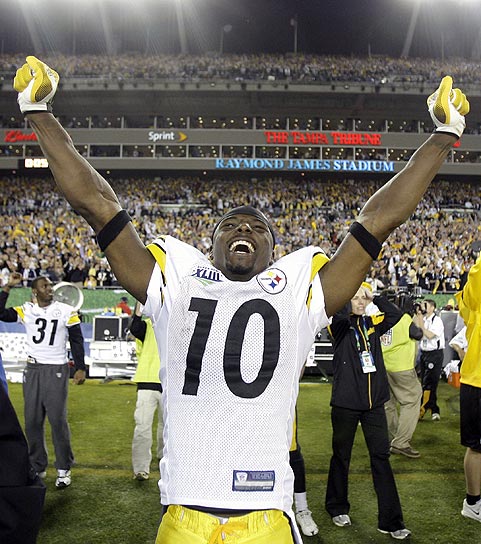 TAMPA BAY - The question of whether or not it could get any worse for Cleveland Browns fans got a definitive answer yesterday, when disgraced offensive coordinator Bruce Arians and the hated Steelers secured yet another Super Bowl victory. The one saving grace might have been that Tim Tebow's name wasn't mentioned once during the entire broadcast. Here are some of CursedCleveland.com's carefully constructed postgame notes.
Props to Santonio Holmes
for getting all three of his feet down in the endzone. Don't act like you know what I'm talking about, considering the
photo I posted
earlier this week. The guy is a flat-out play maker, and when the cameras are on, nobody
let's it all hang out like Holmes
. OK I promise I'm done.
Nice of Kurt Warner to not thank
Jesus after the tough loss. Is there something we should know about Kurt? Like the fact that the
women you're married to now
bears little resemblance to women
you were married to
nine years ago. Perhaps he illegally downloaded a torrent of
Religulous
and is no longer a believer.
NBC's coverage was much better than
Fox's version of the college football national title game. A few problems though. First, can we please design a graphic for a first down that's ANY color other than YELLOW? You know, the same color that even ancient Mesopotamians would identify with a penalty flag. Every time the Cards would pick up a first down, I would just assume it was penalty (OK, bad example).
Also, stop shifting camera angles when the teams get inside the five yard line. We as football fans have been conditioned over the years to view the game from a certain perspective. You don't see them adjusting to the sideline view for a field goal, so why are they changing lens positioning on us in the biggest game of the year in key situations? Although you know who's vantage point didn't change the whole game? Matt Leinart's.
And please stop telling us in Super Bowl games about "Super Bowl records." There's only been 43 of these games played. There's a new record set in just about every regular season game...and there's been more than 10,000 of them over the years. So yeah, when Ralph Brown makes a Super Bowl tackle, it's no surprise when the Elias Sports Bureau notifies us that he's the worst player in Super Bowl history to make a tackle.
And on that last play, no, I don't
think the Steelers' win is tainted or anything like that. However, the play absolutely has to be reviewed. Why in the world can't Arizona use their last challenge, regardless of when the play occurs in the game? Given James Harrison's celebration penalty, the Cards would have had the ball around the 30 yard line. Not to mention they have the best jump ball receiver in football outside of
Terrelle Pryor
. It would have been very interesting to see one last chance at a
Kurt Warner stumble and subsequent trip over his offensive lineman's feet
hail mary play.